Sound diffuser "Azteca"
Like magic.
Transform room tuning into something you
look forward to.
To achieve holographic sound, creating a right space is very important.
The only thing that is needed (required) for the space of a listening room is the original source of music. In order to withdraw music that is contained in the source, KRYNA developed a sound diffuser called Azteca as a tool to remove damaging environmental influence.

When music is replayed, standing wave generated in the listening room interferes and blurs the sound. By installing the Azteca, a sound diffuser, in a place where standing wave tends to appear and by diffusing the direction of sound reflection, you can reduce the muffled sound and create a stress-free space.
Furthermore, if the Azteca is used in the space where sound is too much absorbed and dead (e.g. closet or room with curtain or bed), it will prevent the excessive absorption of sound and make the good balance in the room to give you pleasure of reproducing music in live atmosphere.


The Azteca's unique form that reminds you of pyramid contains a secret to diffuse standing wave that has harmful influence on a listening room. The pyramid structure with many steps has a slowing effect of creating reflection wave of sound through height of steps and reducing standing wave.

The pyramid-shape sloped steps with adjusted angle will improve the acoustic property of your room by diffusing sound up, down, left and right and adjusting the sound.
The holographic sound that KRYNA is aiming should be achieved in any environment. Even in a listening room with different size and form, the Azteca, which is equipped with various inventions, can draw depth, height and width of sound and can easily create holographic sound that shows natural and three dimensional sound image.

Furthermore, by using the sound diffuser and sound absorption (Watayuki, Dokayuki) together, you can tune the sound in your room efficiently in accordance with the problems of your room.
You may think that conventional room tuning is too ambitious with little effect. The Azteca will erase such an image. Please enjoy recreating the massive scale in your listening room.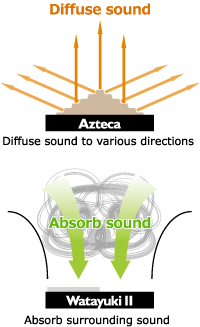 Roles of sound diffuser and
sound absorption
<Sound diffuser>
·To reduce standing wave.
·To reduce too much absorption of sound.

<Sound absorption>
·To absorb muffling sound (haziness).
·To reduce doubling sound.
Usage points
Install the Azteca in the places where reflection of sound occurs!
(e.g. back of speaker, side wall, ceiling)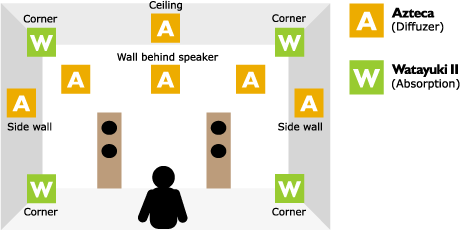 Azteca
Model

AZM-W
(White)
AZM-N
(Natural)
Dimension
W:220×D:85×H:220mm
Weight
About
190g
About
170g
*Product Type, standard, design, price may change without advance notice
in order to improve the product, etc.
Brochure Download(English)