Speaker Cable "Spca"
"High Performance" should be "Nothing".
A Speaker Cable to Reproduce Holographic Sound
"Information cannot be Lost."


KRYNA's Spca series delivers even more correct music information to speakers and we took the chance to develop it to act as a "stagehand" at a successful theater.

If you add unnecessary ornamentation and processing to the outside of a cable, the cable looks fancy and expensive.
However, the cable's primary role is to be a stagehand, behind the scenes.
The stagehand is not supposed to steal the show.
In addition, cables that have a lot of phase distortion feel like only a single part of the sound has come through and end up creating an uncomfortable feeling when the music is heard.

To communicate more of the information contained in the audio signal as smoothly as possible, without loss, and balanced with little phase distortion, is achieved by transmitting accurate music information to speakers.
In order to do this, the necessary wires are carefully selected, one after the other, and European Ultra Fine Soft Annealed Copper Wires that are thinner than a strand of hair are used.

These wires are then intertwined repeatedly in a "Multi-layer Twist Structure" to maximize the unique the characteristics of the wires to become the stagehand. This is then fine tuned with the ears of an engineer to become KRYNA's one and only speaker cable.

"Light sound becomes light sound. Quiet sound becomes quiet sound."


The Spca series pursues sound as it should be and is offered here as a speaker cable for holographic sound.
Spca7
~The pinnacle of the Spca series.
The form of Holographic Sound evolved even further.~
The Flagship model of the Spca series.
It has a never before achieved S/N, fitting of the flagship title, and a rare resolving power is drawn out.
Using the series standard model "Spca 5" as the base, and incorporating all the know-how that KRYNA has fostered, we tried our hand at a more elaborate cable structure that evolves Holographic Sound even further.

A first for the Spca series, we employed the "Double Shielding Tornado Structure" to the information transmission web that is interwoven with micron level ultra fine wires.
S/N succeeds at elevating the hearing sensation by approximately double.
Already, the low-, mid-, and high-ranges domains are surpassed and become sound from another dimension, leading the way for Holographic Sound to be immutable.

Comfortably passing through, sound and wind swish by…
We promise an overwhelming soundstage reproduction power where "silence" and "openness" co-star.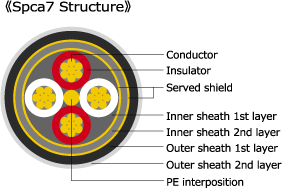 Spca5
~Sound=3D. The new standard for speaker cables.~
The Standard in the Spca series.
A model that can't be passed up as it sets out to create Holographic Sound by acting as a stagehand and building up a stage fitting for a speaker cable.
Using the same Ultra Fine Soft Annealed Copper wire as the Flagship model, it is made to be as thin as possible in our proprietary Multi-layer Twist 4 Core structure.
We created this with the aim of Ease of Use and Holographic sound coexisting.
The moment the cable is connected, you will be overwhelmed by the flood of Composite Information and richness of the sound.
The distinct vividness will show you the real pleasure of Holographic Sound.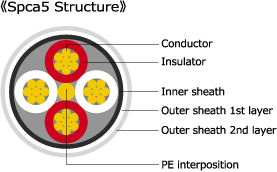 Spca3
~For a more familiar Holographic Sound.~
The Entry model in the Spca series.
We want you to experience Holographic Sound more familiarly.
Not lacking any of the essential materials required for a cable to act as a stagehand, this uses the same Ultra Fine Soft Annealed Copper wire as the higher level models but with a simpler Multi-layer Twist Double Core structure that is also thin and flexible so that it can be used easily even in tight spaces.

Spreading out and reaching far back, rising up, three dimensional musical performance floats out while the information is precisely and smoothly extracted.
Even with small audio and car audio, enter a whole new Holographic world with the Spca 3.
Let's make discoveries and have feelings that we have never before had with the Spca 3.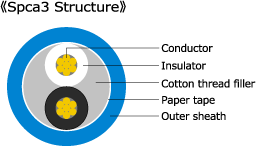 Spca7
Spca5
Spca3
Terminal
3 types
(None/Y/Banana)

3 types
(None/Y/Banana)
2 types
(None/Y)
Structure
Quad core multi layer twist double shield structure
Quad core multi layer twist Structure
Double core multi layer twist Structure
Central Line Material
High Purity OFC
High Purity OFC
High Purity Soft Copper Wire
Outside Material
PVC
Maximum Diameter
11.0mm
9.0mm
6.3mm
*Product Type, standard, design, price may change without advance notice
in order to improve the product, etc.
Brochure Download(English)