Balance cable "Balca"
To obtain true high performance.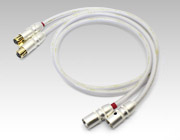 Balca5
∼Also suitable for professional specifications
that require flat transmission∼


Balance cable specification of the Inca5.
It is designed to create flat sound in pursuit of "none" existence. Because of that, KRYNA cable demonstrates its real strength for high-end equipment, PA or even in the severe environment such as recording studio where original sound is handled.
Please check the Balca's overwhelming information transmission power that overturns the common sense with your system.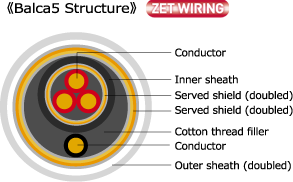 KRYNA ZET WIRING Technology

Kryna's ZET WIRING technology, noise that gets mixed in is taken out and the signal is purified.
To convey sound without losing any of the information, the energy contained in sound, is a big step toward Holographic Sound regeneration.


Model
Balca5
Composition of conductor
High-purity annealed copper wire
Structure
ZET WIRING (3 wires+1 wire)
Number of conductors
4 conductors
Insulter
PVC, cotton thread
Shield
Double shielding tornado structure
Sheath
PVC sheath
(direction of element wire is displayed with arrow)
Outer diameter
8.30±0.6mm
Plug
XLR plug
Pin
Brass+24 gold plating
*Product Type, standard, design, price may change without advance notice
in order to improve the product, etc.
Brochure Download(English)