Audio board "Palette Board"
Colorful with music.
Welcome to Palette Wonderland!!
To be introduced to all of audio systems on the earth.
KRYNA reconsidered the value of base boards, which underpin audio systems, in order to change the underlying style for music play. Palette Board of KRYNA easily realizes a new tuning style beyond the limitations of conventional audio boards.
To generate intact sound and resurrect 3D
KRYNA, which tackles the vibration problem, concentrates on dealing with unnecessary vibration generated by audio devices. Most of audio devices require a power source like amplifiers, and emit enormous energy like speakers, which generate invisible vibration. In order to play music as demanded, it is necessary to first remove the "adverse effects" of the hidden vibration on sound. The mount for audio devices is an important place like the foundation of buildings, and is required to function to shut off external influences and serve as a stable mount. However, stability is not enough for the mount of audio devices, which needs the function to prepare the intact environment by removing unnecessary vibration generated inside audio systems. Palette Board has debuted as an epoch-making tool that fulfills the above two roles smartly, after implementing various measures against vibration through repeated research and verification.
Its structure is simple yet effective and surefire.
Palette Board looks like a single board, but is actually constituted by two boards. Two boards are piled like a multi-tiered box, and it houses the insulator "Cat," which includes the original mechanic diode of KRYNA for eliminating unnecessary vibration. Four "Cats" placed in the diamond formation suggested by KRYNA absorb the vibration generated by devices on the top panel of Palette Board. The mechanic diode structure prevents the return of vibration and shuts out unnecessary vibration. Furthermore, the surface is treated with "lacquer," which is a natural polymeric material, for damping vibration swiftly and smoothly and then realizing a natural, intact acoustic field thanks to the natural material, which is different from that of ordinary coating.
Three major elements constituting Palette Board
1. Innovative board with the mechanic diode structure
Palette Board is a new-type board that houses the spike structure, which serves as the "mechanic diode." The advanced vibration reducing technology of the insulator series boasted by KRYNA is utilized also for Palette Board.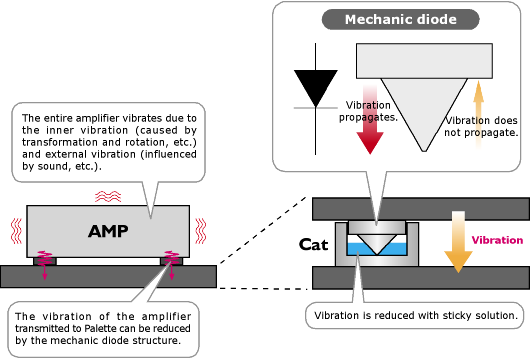 2. New vibration control with the diamond formation
The new vibration control system "diamond formation," which is used for the speaker stand Stage, was adopted, realizing vibration control at an unprecedented level. This system can be upgraded by using T-PROP (optional).
3. Combination of "wood + lacquer" to deal with natural vibration
For Palette Board, we focused on the natural material "lacquer" and used it for finishing the surface and producing a vibration suppressing structure. Palette Board is produced by coating it with several kinds of lacquer carefully many times for developing a multi-layer structure with different characteristics. By offsetting the distinct characteristics of each material, it becomes possible to curb vibration without tainting sound.
<Lacquer is a natural polymeric material>
"Lacquer" adopted for Palette Board is a natural "polymeric material" derived from plants. The chain-like polymeric structure, which has high elasticity, converts external vibrational energy into thermal energy, attenuating vibration. It is important to let vibration damp naturally with the power of "polymeric materials" rather than shutting out vibration with vibration-resistant materials.