Room tuning device "AztecaTower"
The paper technology of KRYNA is here.
The room tuning tower exclusively
for Azteca & WatayukiII debuts!
Azteca Tower of KRYNA is a self-standing room tuning device that can be placed anywhere, without limiting the installation conditions, including wall materials. For achieving natural, easy room tuning without causing a feeling of oppression, we selected lightweight, breathable paper materials.
This Azteca Tower not only functions as a room tuning device, but also produces synergetic effects with Azteca (sound diffuser) and Watayuki II (acoustic absorption material). Just by attaching Azteca and Watayuki II, you can enhance its effects twofold to threefold.
Since this product is shaped like a tower with a depth of only 27 cm, this does not require a large area for installation, and so you can enjoy room tuning readily with minimum space. This is ready to assemble, and so you can purchase it from one block, and it weighs only 300 g. Accordingly, you can adjust the height and quantity easily according to your listening space.
The white color, which can easily fit in your room, provides a simple, crisp atmosphere. Let's advance from a modest forme to the music space in another dimension beyond the reach of imagination. This product can reflect all information, enrich the low-pitched sound volume, and depict a 3D space having depth, height, and breadth.
Five features of Aztech Tower
1. With joints, it is possible to set height freely.
2. Because of the pyramid style, the tower body itself can produce the diffusion effect.
3. This includes slits so as not to block the flow of sound (air).
4. The sound absorption material (KP55) inside the tower controls the vibrancy of sound.
5. This product is made of paper materials, which hardly affect acoustic characteristics.
Aztech Tower itself functions as a room tuning device, because its pyramid shape and built-in sound absorption material KP55 produce the sound diffusion and absorption effects, respectively. These prevent the generation of standing waves, and realize the optimal acoustic space for installing Azteca and Watayuki II.

Examples of use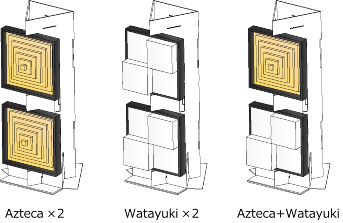 ·Used as a tower exclusively for Azteca
·Used as a tower exclusively for Watayuki II
·Used as a combined tower for both Azteca and Watayuki II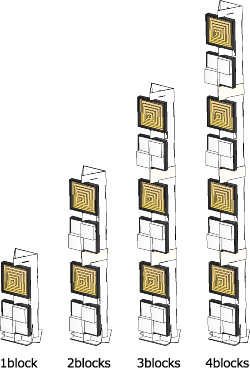 ·It is possible to assemble up to 4 blocks.
Examples of installation
·Placed behind a speaker at a corner of a room.
·Placed in tandem with other towers.
All-in-one set
The all-in-one set includes Aztech Tower, Azteca, and Watayuki II. This is recommended by KRYNA, because this set enables the well-balanced room tuning. You can upgrade your room to a holographic sound room, which can render depth, breadth, and height without any bothersome setting.
AztecaTower
Model

AZT-1
(including 1 tower)
AZT-3
(including 3 tower)
Dimensions
W:310×D:270×H:600mm
W:310×D:270×H:1800mm
Weight
About 300g
About 800g
Contents

1 tower
1 base
1 joint

1 unit of sound absorption material KP55

3 towers
1 base
2 joints

3 units of sound absorption material KP55
Azteca Tower All-in-One Set
Model

AZT-3S-N
AZT-3S-B
AZT-3S-W
AZT-3S-G
Contents

AZT-3
+
AZM-N x3
+
WY-W x3


AZT-3
+
AZM-B x3
+
WY-W x3


AZT-3
+
AZM-W x3
+
WY-W x3
AZT-3
+
AZM-G x3
+
WY-W x3

*Product specifications, standards, designs, and prices may be changed without notice,
for improvement, etc.
*The color of the outer case for Azteca included in the set is white only.
Brochure Download(English)